Friends of the Library Board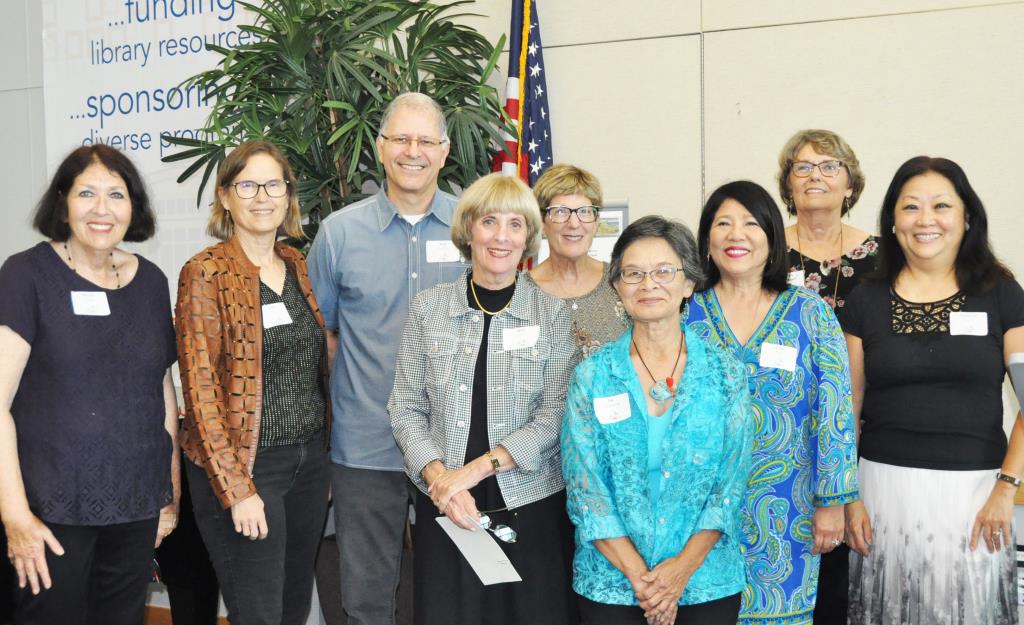 Amy Hunt, President
Pam Crook, 1st VP/Programs
Elena Yuasa, 2nd VP/Membership
Ita Vandenbroek - 3rd VP/Book Sales
Susan Caine, Treasurer
Catherine Wallach, Secretary
Katie Loss, Marketing Director
Wendy Frankel, Bookstore Manager
Paul Fliegelman, Volunteer Coordinator
Friends of the Library Board Meetings are held the second Tuesday of every month except for June and December at 9:30 a.m.
WE ARE OPEN!
Good news! We have moved the books from the book store into the Friends Room where we've held our big book sales.
Friends bookstore hours:
Monday - Saturday
10:30 am - 3 pm
We're so happy to be open, and really look forward to seeing you again!
---
PROTOCOLS AND PROCEDURES
We want to ensure everyone's safety with these protocols and procedures.

Safety Protocols For Customers
Everyone will wear a mask over their nose

and

mouth.

No mask, no entrance..
Hand sanitizer will be available.
Procedure
Enter through the Friends Room entrance in the library or through the Bamboo Courtyard Patio (around the building to the left of the main library entrance).
Do not crowd each other at the tables. 6 feet is your friend!!
---
BOOK DONATIONS
We have resumed donations for the time being; please help by following the guidelines below.

When: Bookstore donations will be accepted from 10:30 am until noon, Monday through Saturday
Where: The Bamboo Courtyard at the Central Library
Guidelines:
1. All donations must be in small or medium size boxes.
2. Maximum of 4 boxes may be dropped off at any one time.
3. All books need to be in better condition. Books should be clean with no tears, foxing, broken spines, missing pages, etc.
4. Fiction & non-fiction should preferably be from the last 6-10 years except for classics and history.
5 We do take CDs & DVDs.
6. We do not accept:
Encyclopedias unless they're 100 years old.
Time/Life books
Reader's Digest condensed books
Medical books, health books, law books, and travel books older than 8 years.
VHS or cassette tapes.
If you have questions, email us at nblibfriend@gmail.com.
PLEASE do not drop off donations at any other time. They will not be accepted. A donation receipt will be provided if desired.
Thank you for your support! We could not make our substantial gifts to the Library without your donations.
---
Friends Present Gift of $185,000
The Friends of the Library presented City and Library officials with a check for $185,000 at the Newport Beach City Council meeting on Tuesday, September 10.
Friends of the Library President Amy Hunt and Friends Bookstore Manager Wendy Frankel made the presentation to Mayor Diane Dixon and Library Director Tim Hetherton. Amy Hunt said, "We are thrilled to be able to donate this money to the Library. We know it will be wisely used." She also noted that one of their volunteers had added up the donations given to Newport Beach Public Library over the past fourteen years and it totaled over $3.5 million. Even more surprising, the donations are generated from used book sales at $1 per book at the Friends of the Library bookstore.
According to Library Director, Tim Hetherton, "This gift will augment the Library collections at all locations, in all formats and for all age groups. The funds will also sponsor programming for all ages, such as Summer Reading, National Library Week, Young Adult programs and First Grade Class Visits."
The Friends of the Library Bookstore, in addition to quarterly book sales, generates funds year-round for children programs, summer reading materials, furnishings, services and collections. The Friends Bookstore is located inside the Central Library at 1000 Avocado Avenue, Newport Beach. Donations of used books are always welcome.
For more information about the Friends of the Library, visit the website at https://www.newportbeachlibrary.org/about/friends-of-the-library.
Photo (left to right): Library Trustees Paul Watkins and Janet Ray, Librarians Melissa Hartson, Debbie Walker and Rebecca Lightfoot, Mayor Diane Dixon, Friends of the Library president Amy Hunt, Friends of the Library Bookstore Manager Wendy Frankel, Library Services Director Tim Hetherton.
---
SAVE THE DATE
BOGO (Buy One Get One) dates on which Friends of the Library Members receive 50% off everything in the bookstore will be re-scheduled soon. Stay tuned!
---

THE NEXT STUPENDOUS BIG BOOK SALE!

Our Big Book Sale dates will be announced at a future date.
---
OUR GIFT TO THE LIBRARY
The Friends of the Library presented City and Library officials with a check for $116,377.21 at the Newport Beach City Council meeting Tuesday, November 27. Appropriately, it was "Giving Tuesday," the perfect day to make another big gift to the Newport Beach Public Library. That brings our grand total for the year to $296,377.21! Thank you to all the hard working and generous Friends. You make a difference! This gift will provide funding for the opening day collection and the reading porch furniture at the Corona del Mar Branch Library.
---
AMAZON SMILE
Do you and your family members shop at Amazon?

Now you can continue to shop at Amazon and give 5% of your purchases in cash to the Friends of the Newport Beach Library! Here's how:
Instead of logging in at Amazon.com, log in at smile.amazon.com
Log in with your user name and password just like you always do.
Go to the word SUPPORTING under the search box.
Type in FRIENDS OF NEWPORT BEACH PUBLIC LIBRARY and click SEARCH. When you see our name, click on SELECT.
You are set to do your purchasing just like you always do.
Each time you want to purchase something on Amazon, always log into Amazon Smile.
While you're here...
Did you know that the Friends' Bookstore sells on Amazon? It gives us an opportunity to display some of our premium books and boost our gift to the library.
Check out our seller page: Little Avocado2 Books
---
The Friends
Founded in 1957 by a small group of volunteers, the Friends of the Library take pride in helping to maintain the excellence of the library system. The Friends Bookstore donates all of its revenue to the library to fund various needs and projects. Your continued patronage of the Friends Bookstore is vitally important and appreciated.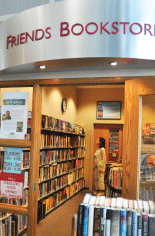 FRIENDS BOOKSTORE
Friends Bookstore is temporarily located in the Friends Meeting Room
Newport Beach Central Library
1000 Avocado Avenue, Newport Beach, CA 92660
Monday - Saturday
HOURS: 10:30 am - 3 pm
WE ACCEPT CREDIT AND DEBIT CARDS!
Minimum amount for a credit or debit card purchase: $5
Other benefits of membership:
Shop on the first day of the Quarterly Book Sale for best selection.

A free lunch in June with a noted author as speaker.

Supporting the library and its fabulous programs
Become a member today!
Download and print the membership brochure application or pick up a membership application at the Friends Book Store in the Central Library.
Questions?
Contact Friends of the Library at: nblibfriend@gmail.com
---
Book Donations
We LOVE your donations, please see the instructions above for more information.