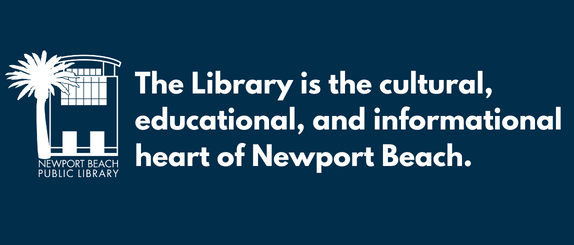 Addresses, phone numbers, a map and hours for each NBPL location.
History and general information about the City of Newport Beach.
The Newport Beach Public Library has a long history of service to the community beginning in the 1909.
Information about the governing Board of the library.
Policies governing the use of the Newport Beach Public Library.
Newport/Mesa ProLiteracy, located on the lower level of the Central Library, provides services for adults seeking to improve their English reading and writing skills.
The Cultural Arts Division of the Newport Beach Public Library, with guidance and support by the Newport Beach City Arts Commission, brings cultural and arts programming to the community.
The Friends fund children's programs, Sunday Musicales and other library programs through used book sales and donations.
The Newport Beach Public Library Foundation funds valuable library resources and services , and presents a variety of literary programs design to engage the community.
News releases, facts and figures, photos and other information helpful in preparing articles about NBPL and upcoming events.
Get in touch with us via email, phone or postal mail.
Wake Up! Newport
Gary Sherwin, President/CEO Newport Beach and Co.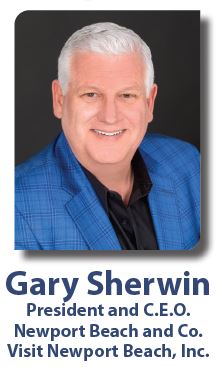 Newport Beach Tourism Update
Newport Beach: The Most Festive Coastal Destination in America
Updates on the Newport Beach hotel industry
Current trends in travel and tourism
Economic impact of tourism
Gary is a 24 year veteran of the destination marketing industry. Prior to coming to Newport Beach, he served as Vice President, Market Development for the Palm Springs Desert Resorts Convention and Visitors Authority, where he co-authored a book published by DMAI, Destination BrandScience, which is now the standard for destination brand development. Currently he is on the Board of Directors for the Orange County Visitor Association and the California Travel Association.
A free opportunity to meet one on one with legislative and government officials and stay updated on current local, state and federal issues.
Hosted by the Newport Beach Chamber of Commerce

Presenting sponsor Julie Laughton Custom Homes

**Breakfast treats will be provided.

This event is free to the public, but please make reservations so we can plan for food and seating, at www.newportbeach.com.
Return to full list >>