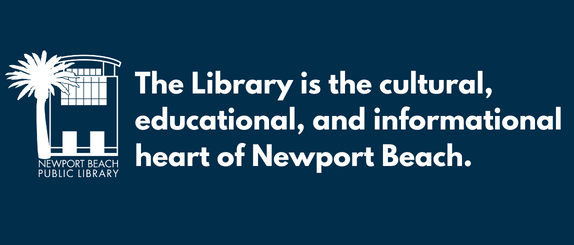 Addresses, phone numbers, a map and hours for each NBPL location.
History and general information about the City of Newport Beach.
The Newport Beach Public Library has a long history of service to the community beginning in the 1909.
Information about the governing Board of the library.
Policies governing the use of the Newport Beach Public Library.
Newport/Mesa ProLiteracy, located on the lower level of the Central Library, provides services for adults seeking to improve their English reading and writing skills.
The Cultural Arts Division of the Newport Beach Public Library, with guidance and support by the Newport Beach City Arts Commission, brings cultural and arts programming to the community.
The Friends fund children's programs, Sunday Musicales and other library programs through used book sales and donations.
The Newport Beach Public Library Foundation funds valuable library resources and services , and presents a variety of literary programs design to engage the community.
News releases, facts and figures, photos and other information helpful in preparing articles about NBPL and upcoming events.
Get in touch with us via email, phone or postal mail.
The Witte Lectures 2023: Cristina Mittermeier
Enoughness: Ocean Conservation
The Newport Beach Public Library Foundation presents
The 26th season of the highly acclaimed Witte Lecture series launches in February 2023. Sifting through the massive flow of information and discerning what deserves thoughtful attention is time consuming and difficult. Our roster of nationally known speakers will once again provide a spark for igniting community conversation on the timeliest topics. Be part of the Witte community for live, dynamic, and compelling conversations in our award-winning library. Knowledge is power!

Enoughness: Ocean Conservation
Cristina Mittermier
Friday, March 31, 2023 - 7:00pm
To learn more about the event and to register : https://nbplf.foundation/programs/witte-lectures/
Questions? Contact Director of Programs Kunga Wangmo-Upshaw kupshaw@nbplf.foundation or 949-717-3818.
Return to full list >>