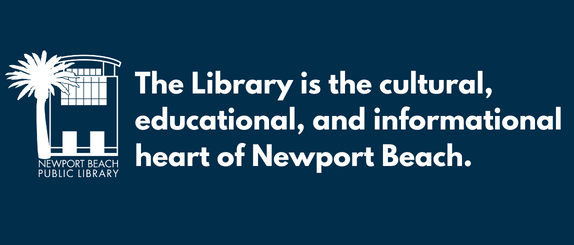 Addresses, phone numbers, a map and hours for each NBPL location.
History and general information about the City of Newport Beach.
The Newport Beach Public Library has a long history of service to the community beginning in the 1909.
Information about the governing Board of the library.
Policies governing the use of the Newport Beach Public Library.
Newport/Mesa ProLiteracy, located on the lower level of the Central Library, provides services for adults seeking to improve their English reading and writing skills.
The Cultural Arts Division of the Newport Beach Public Library, with guidance and support by the Newport Beach City Arts Commission, brings cultural and arts programming to the community.
The Friends fund children's programs, Sunday Musicales and other library programs through used book sales and donations.
The Newport Beach Public Library Foundation funds valuable library resources and services , and presents a variety of literary programs design to engage the community.
News releases, facts and figures, photos and other information helpful in preparing articles about NBPL and upcoming events.
Get in touch with us via email, phone or postal mail.
Display of the 2022 Student Art Exhibition ends
On Display on the Second Floor of the Central Library until February 10!
NEWPORT BEACH STUDENT ART EXHIBITION
The Newport Beach Student Art Exhibition, an exciting program for young artists, will be on display at the Central Library (1000 Avocado Ave., Newport Beach 92660) until February 10. The Student Art Exhibition is an opportunity for students grades pre-K through 12 to showcase their creativity, with artists submitting one original work of art. The call for entries opened on September 2 and closed on November 4, 2022, with winning entries and awards distributed in the form of gift card prizes to nine winners.
Visit the Student Art Exhibition page for more information!
Return to full list >>