Become a Book Review Blogger!
Do you enjoy reading and writing? Become one of the library's teen bloggers and help other teens find out about books you love. You can be a volunteer at home!
Must be 12-18, in 7th-12th grade and be able to write in a conversational way with minimum grammar and spelling errors.
Book Reviews by NBPL Teens
14 Ways to Die by Vincent Ralph
Review by Shaurya
Post Date:
05/01/2022 9:00 am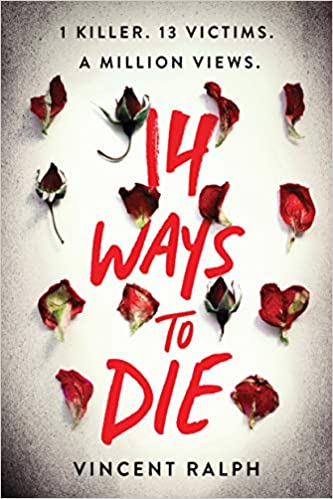 Vincent Ralph's murder mystery, 14 Ways to Die, follows Jess, a seventeen year old girl. When Jess was seven, her mother was murdered by The Magpie Man. Since then, he has killed 12 others, but the police are left in the dark about his identity. When Jess sees a new type of tv platform, she knows this might be the chance to finally find the man who murdered her mom and destroyed her family.
At the age of seven, Jess heard a knock on the door. Her dad answered it and received news that no family should ever have to bear. Trying to shield his daughter, Jess's dad tells her that her mom was taken by The Magpie Man, a man who borrows shiny things. As this story spreads to the news, they unintentionally create a monster. The Magpie Man is famous for two things: leaving no evidence at his crime scenes, and branding his victims. After his killing spree started with Jess's mother, the Magpie Man indiscriminately killed people all across the country. Just like Jess, these families have been denied justice, as police couldn't find a single lead on the Magpie Man.
10 years after the murder of her mother, an advertisment catches Jess's attention: a completely new type of television broadcasting that has the opportunity for Jess's story to be heard by millions across the globe. If she is chosen, Jess will compete with five other kids with shocking stories to be the most viewed actor and earn an additional two months of their contract. Once a week, for 24 hours, a camera crew will follow Jess's every movement, from her morning routine to school, and everything in between. While Jess hopes spreading her story will help her finally crack the case of her mom's murder, it also gives the world a view into her private life. Soon, Jess becomes a worldwide sensation, and everyone is watching her show, including one unwelcome viewer. As Jess receives threatening texts and personal attacks, she has to figure out who is not as they seem, before it's too late.
I really enjoyed reading this book, and it had me captivated at every twist and turn. One thing I think that the author did particularly well was the use of short chapters. These intense 4 page chapters added to the sense of urgency and emergency that happens throughout the book. 14 Ways to Die kept me hooked for the whole book. I finised this book in less than a day, and I really could not put it down.
Another thing I really enjoyed about this book was the twist at the end. I really enjoyed how the author set up the ending from the beginning, but without it being clear. I didn't guess who the Magpie Man was while reading it, but in hindsight there were many small clues that the author included earlier in the book that I didn't notice.
I would definitely recommend this book to anyone who is a fan of murder mystery books, such as A Good Girl's Guide to Murder, One of us is Lying, and others. It is a very digestible yet entertaining read.
Return to full list >>