Become a Book Review Blogger!
Do you enjoy reading and writing? Become one of the library's teen bloggers and help other teens find out about books you love. You can be a volunteer at home!
Must be 12-18, in 7th-12th grade and be able to write in a conversational way with minimum grammar and spelling errors.
Book Reviews by NBPL Teens
The Selection by Kiera Cass
Review by Maris
Post Date:
07/01/2020 9:00 am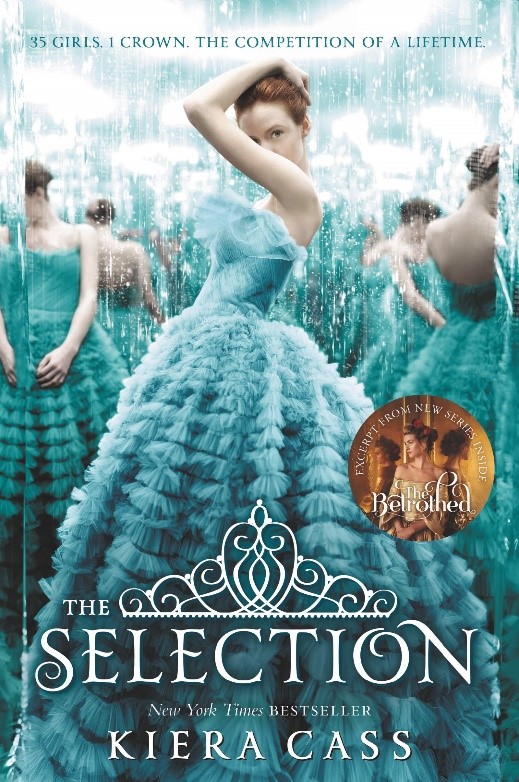 The Selection is a fictional story written by Kiera Cass. It is set about 300 years in the future, and Keira Cass states there have been four world wars. The effect of these wars leads to what we now know as America becoming the United States of Illea. After this war, society was split into castes. The caste system as made up of eight different socials classes. The Ones were royalty and also included religious figures such as priests. Maxon Schreve, one of the main characters' love interests, is a one, being the prince of Illea. His parents, Queen Amberly and King Clarkson are also Ones. Twos consisted of celebrities such as actors, models, and athletes and they also consist of fighters such as police, military members, and firefighters. Threes are made up of learners such as teachers and scientists. Doctors also occupy this caste. However, any girl that enters the selection is automatically made a three, unless they occupy a higher caste, such as a two. Fours are mainly workers such as construction workers, jewels, or even head cooks. Fives are performers and artists but make much less money then twos. Sixes workers such as waiters and housekeepers. The second-lowest caste is sevens. This people in the caste do most outside work such as gardeners and trash collectors. Finally, the lowest caste is the Eights or the "untouchables." These are sometimes either orphans or citizens who broke the law. One of the rules of the caste system is that when you marry, both people become the man's caste. For example if a woman Three and a man Two married, the woman becomes a Two. But even if a woman Four marries a man Seven, the women would then become a Seven.
The Selection follows the story of a teenage girl named America Singer. America is a Five, like the rest of her family. However, she is madly in love with her best friend, Aspen. Aspen is a Six and though he loves America, he feels bad about wanting to marry her, because it would cause her to move down to his lower caste. Then one day, America receives a letter from the palace. The letter states that any women from the ages of sixteen to twenty is eligible to compete in the Selection. One woman from each province would be chosen, for thirty-five girls in total. The women would be taken to the palace, in which they would try to win the princess's heart. American is very hesitant to enter, mainly because she does not want to give up the life she has now. However, Aspen does encourage her to enter, as does the rest of her family. If she is chosen, America will receive money and automatically becomes a Three.
When America gets chosen though to compete, she goes to the palace, knowing she has no chance of winning. However, in order to keep her family fed, she convinced the dashing Prince Maxon to let her stay, in exchange for a friend throughout the competition. However, when America starts to develop feelings for Maxon, America is torn between two very different worlds and two very different boys.
What I liked most about The Selection was the love triangle between Aspen, America, and Maxon. The whole relationship is not black and white at all. Their feelings are constantly changing and growing so it also makes each event different.
I would recommend this book to people who enjoy reading romances, but also to people who love adventure and drama. This book is filled with action and romance and can also be very interactive. You find favorite characters and get to decide if you're Team Aspen or Team Maxon. It is a very entertaining and enjoyable book to read that I 100% recommended to young teens and adults.
Checkout The Selection from the Newport Beach Public Library.
Return to full list >>