Friends of the Library Board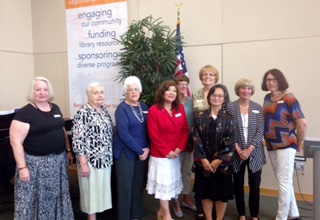 Amy Hunt, President
Pam Crook, 1st VP/Programs
Elena Yuasa, 2nd VP/Membership
Ita Vandenbroek - 3rd VP/Book Sales
Susan Caine, Treasurer
Catherine Wallach, Secretary
Virginia Hayter, Historian/Publicity
Nancy Acone, Bookstore Manager
Wendy Frankel, Volunteer Coordinator
Doug Coulter, Library Board Liaison
Friends of the Library Board Meetings are held the second Tuesday of every month except for June and December at 9:30 a.m.

Schedule your appointment now!
Friends 2nd Annual Book Appraisal Clinic
Saturday, May 20, 10am - 3pm


Bring your family heirlooms, collectible books, and other works on paper to be verbally appraised by rare book specialist, Greg Jung, from San Francisco's PBA Galleries.
Appointments are required and must be made by emailing: nblibfriend@gmail.com. Specify morning or afternoon. Appointment limited to four items per membership. Space is limited.
FREE to all Friends of the Library members. Non-members $10.00 or sign up now for a special $10 yearly membership and entrance is free.
---
Founded in 1957 by a small group of volunteers, the Friends of the Library take pride in helping to maintain the excellence of the library system. The Friends Bookstore donates all of its revenue to the library to fund various needs and projects. Your continued patronage of the Friends Bookstore is vitally important and appreciated.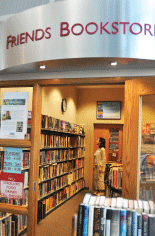 The Friends Bookstore
is located in the

Newport Beach Central Library
1000 Avocado Avenue,
Newport Beach, CA 92660
(949) 759-9667

OPEN DAILY
Monday - Saturday
10:30-4:30 p.m.
Sunday - 1:00-4:00 p.m.

---

The First Tuesday of the Month is Member Appreciation Day!

Members can buy one book and get one free on the first Tuesday of every month.

Other benefits of membership:

Shop on the first day of the Quarterly Book Sale for best selection.
A free lunch in June with a noted author as speaker.
Supporting the library and its fabulous programs

Become a member today!

Download and print the membership brochure application or pick up a membership application at the Friends Book Store in the Central Library.

Questions?

Contact Friends of the Library at: nblibfriend@gmail.com

---

Donate Books!

Used book donations are always needed! Leave your used book donation at any branch library or at the Friends Bookstore in the Central Library.