Making Memories for Children: BARK! Kids Read to Dogs
Come. Sit. Stay. READ!
Courtesy of BARK (Beach Area Dogs Reading with Kids), you can practice your reading skills with a specially trained dog in a one-on-one reading session. Your BARK partner will be happy to listen quietly as you read a good story.
This activity is open to school-age children ages 5-12 and there is no charge for this event.
Reading slots are limited, so sign up today to reserve your spot.
Details: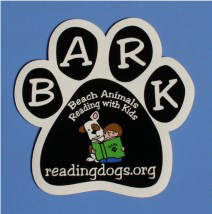 Return to full list >>