Thank you Poets for joining our online Poetry Party and sharing your amazing work! Your poems made our National Poetry Month really special! Three lucky poets have been notified that they have won B&N gift cards. Although National Poetry Month is over we hope you keep writing for the rest of the year, you're all such talented poets! The Poetry Party webpage will be up for the next week so check out some great poetry from the NBPL community and get some inspiration for your next poem!
---
When you feel down by Deanna age 9

Troubling times can come.
And while you look up to your mom,
Listen to me I say,
And I hope it helps your way.

Look up to your family,
While in your grief and humanity.
Talk to a friend
When happy comes to an end.

When you don't know what to follow
When in grief, guilt and sorrow.
Family values no end,
you can also look up to a friend.

If you talk, I'll make you feel better
Just talk to me.
Let your troubles melt away
It is better this way.

I hope this helped,
With all my heart.
---
In This House by Abby age 8
In this house
In this crazy, crazy, house,
There's me.
On the streets,
On the crazy, crazy streets,
I'm a rider
In my room,
In my crazy, crazy room,
I feel calm.
With my brother,
With my crazy, crazy brother,
I feel athletic.
In this house,
In this crazy, crazy house
I am me.
---
Dogs by Reid age 11

So Cute!
So Cheerful
Fluffy and nice
Mine is my best friend
Kindhearted and Alert
His name is Stilton Oyler
He loves unconditionally
Joy and happiness, warm licks, soft ears
Bright eyes, wet kisses, wagging tail, pure love
Long walks, sofa snuggles, fetch on the beach, treats
He is my hero, he is always there for me
He sleeps a lot but when he is up he is crazy
My hero cheers me up whenever I am feeling down
---
Winter Sun by Elif age 6


It's the ice day,
It's the light day,
And evil spirits,
Go away!
It's the sun day,
It's the bright day,
And good spirits,
Come on my way!
---
Quarantining by Sophie age 8
Daddys talking
Mommys reading
Mommys walking
Brothers yelling
Babys screaming
Friends missing
Artists drawing
Teachers zooming
Heros working
Constant sitting
Thats what schools like
When quarantining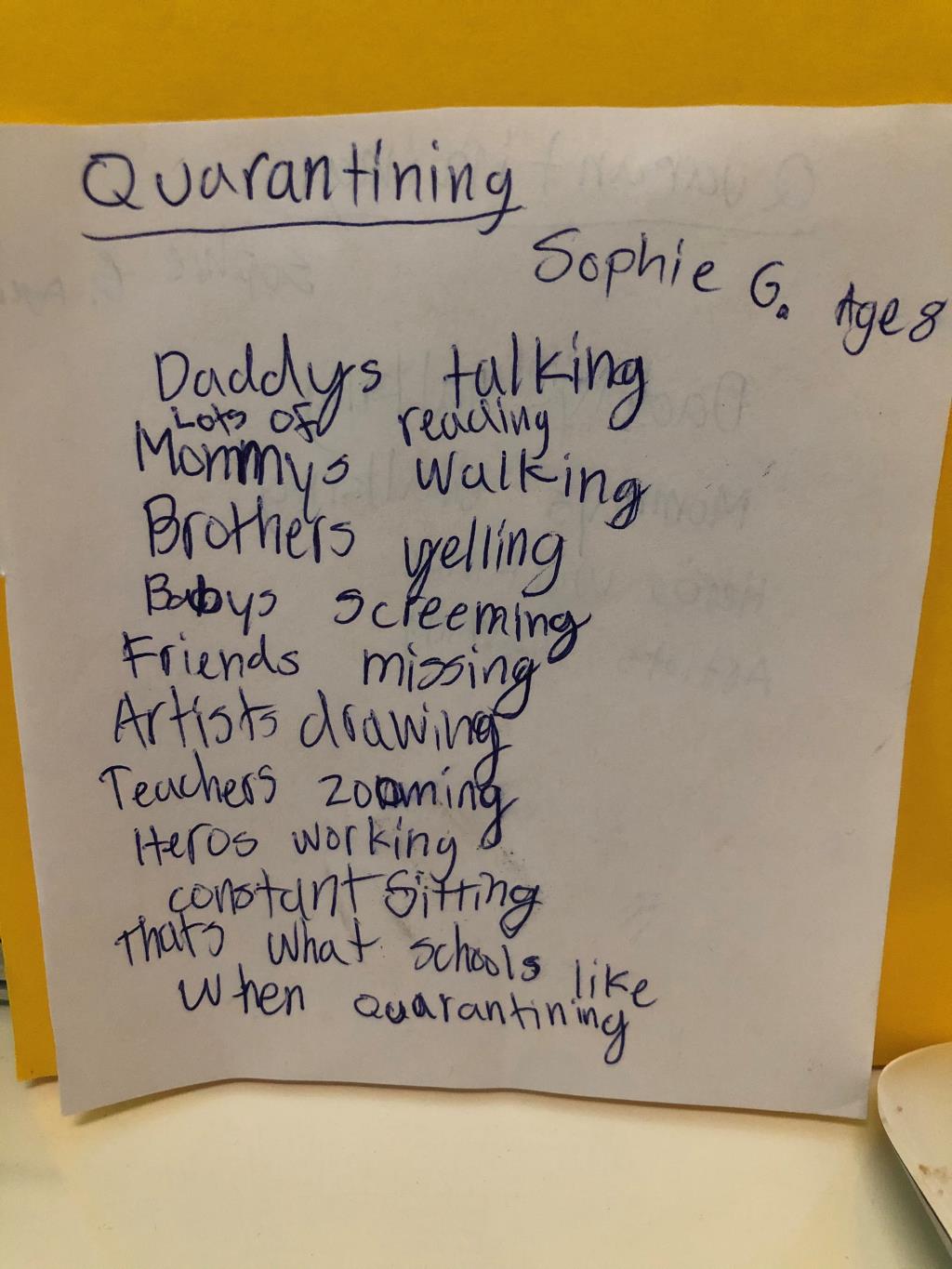 ---
Math is Fun by Sophie age 8
Multiplication
Addition
Those are all so fun
He picks one, she picks
one math is fun for
everyone
---
Just Be Yourself by Sophie age 8
Your being funny, your being
sassy your being a person thats
not like you. your trying to fit in but you don't need
to because theres someone
just like you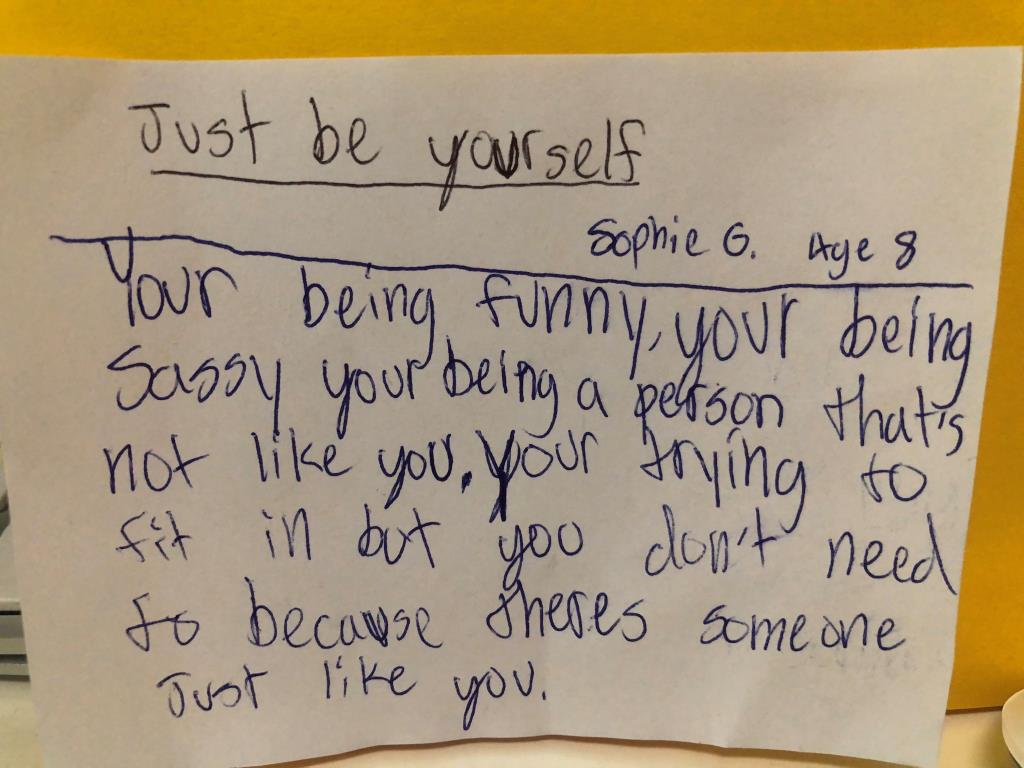 ---
Books I love by Ben age 5
Books I love to read:
Real superheroes
Evil villains
Awesome autos
Daring rescues
---
A Dog's Dream by Jacob age 12
Dreaming of Trash Trucks
Chasing all the gardeners
RULING ALL DOG KIND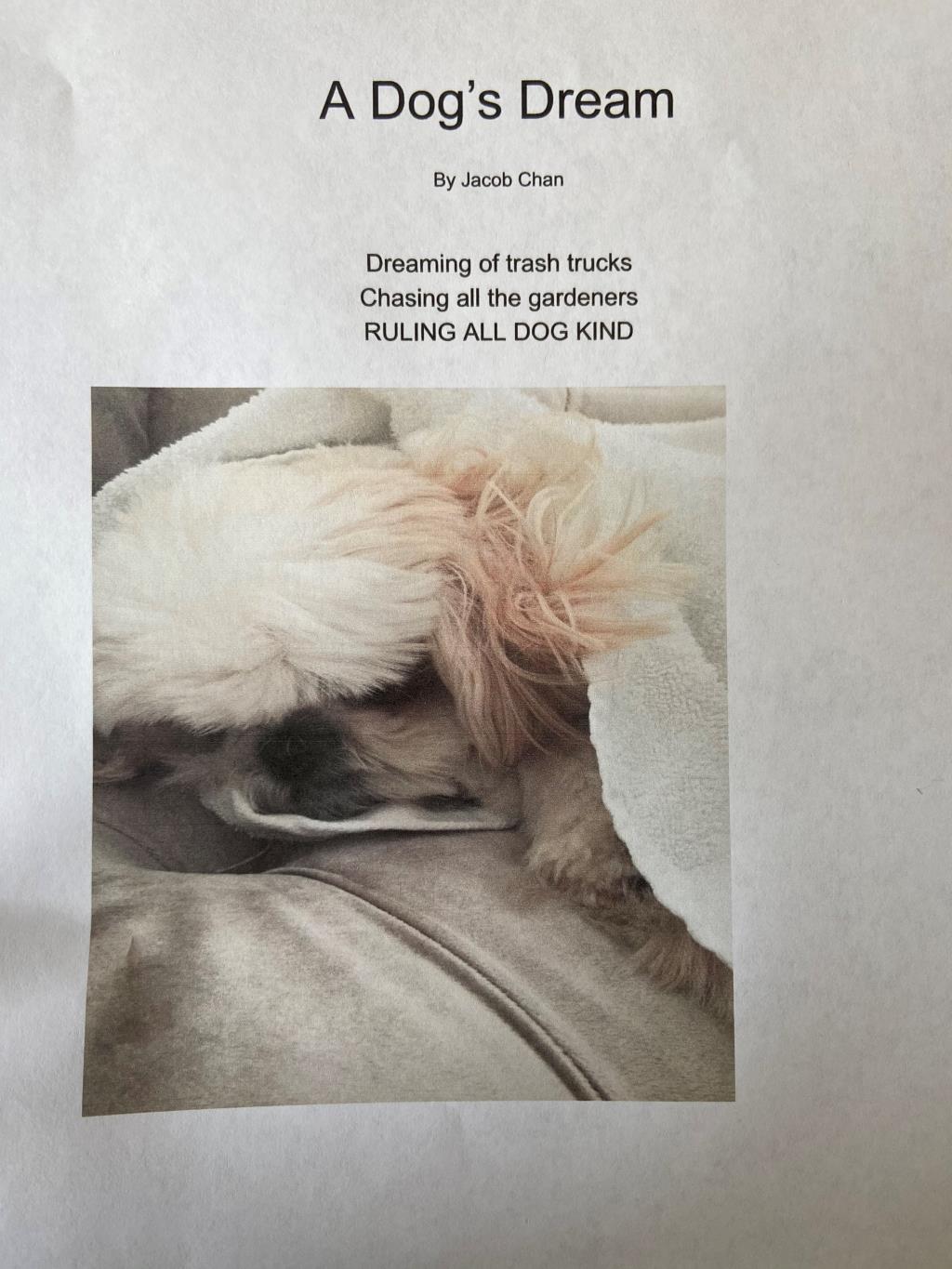 ---
Chores by Ariana age 4
I work on mine
while you work on yours
and we'll have our own
while we do the chores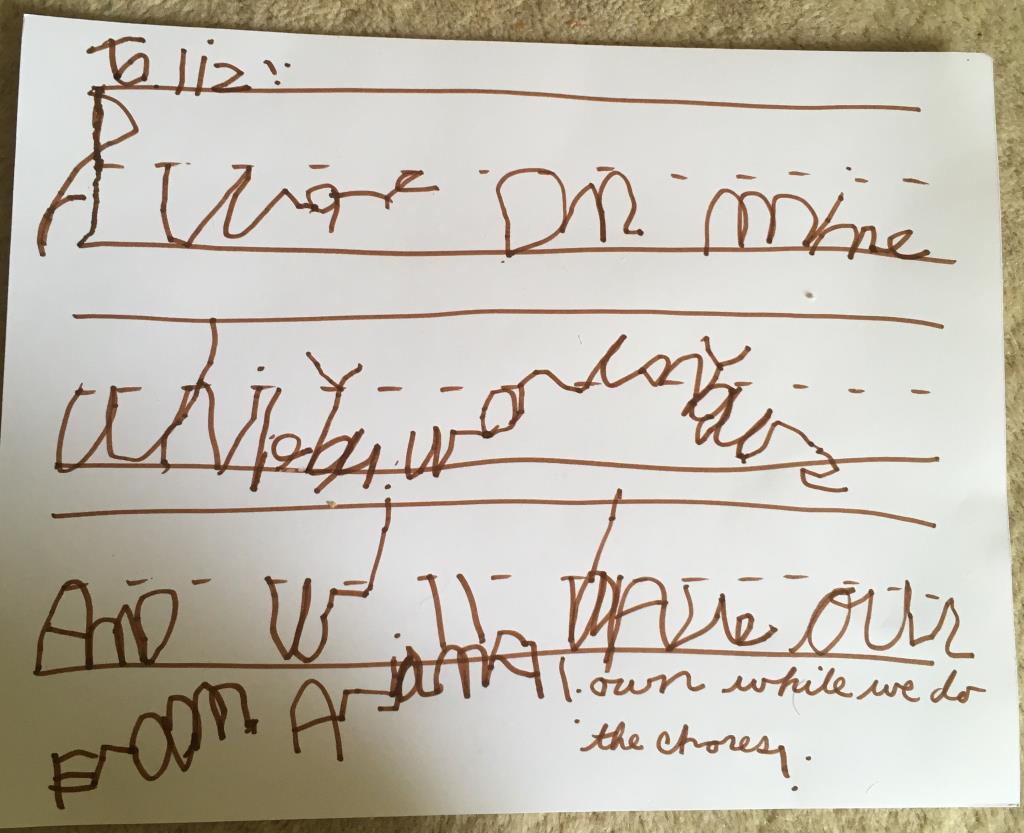 ---
Penguin by Julia age 10
He slides down the ice
Into the water he goes
The water is a penguins paradise
He catches fish to feed Primrose
He jumps back on the ice
And begins to waddle back
Like a bird he flies but on the ice
His black eyes focused on the track
His chick is waiting back at home
For her father to come
She is waiting for her turn to roam
It would be easier if she had a thumb


---
The Animal Battle by Sharon age 9
On a dark, starry night,
When the stars were bright,
And the moon shone with a white light,
A rabbit twirled,
In this magical forest world.
The animals had gathered,
And together they pondered,
Together in the twilight,
For a plan to defeat,
And make their evil king retreat.
To do so was hard,
For the place had many a guard.
Nevertheless,
The animals made progress,
With this dangerous plan of theirs.
The animals succeeded!
The king had been routed,
And when he finally surrendered,
The animals celebrated,
For peace had descended.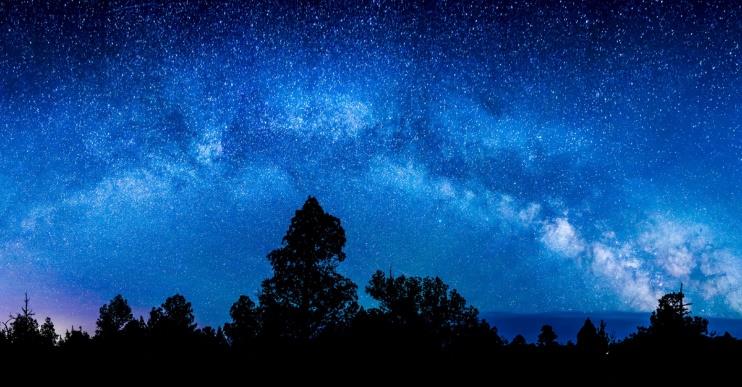 ---
Tornadoes by Ethan age 9
Fast, crazy
Pulling, moving, destroying
A powerful, strong, giant windstorm.
Vacuum cleaners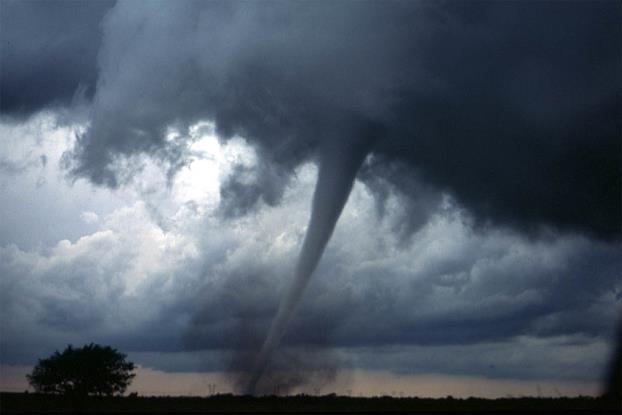 ---
Spring by Ally 5th grade
The flowers bloom up to the sky
You never know how high
Rain falls in pretty rows
And then appears a rainbow
The bees aligned all around
Looking where pollen can be found
You hear the birds singing in the trees
And there goes a gentle breeze
Meet spring he is your friend
But don't wait til the end
---
Jude-San's Haiku by Jude age 9
A silent stuffed bear
in a box to be opened
a child rip, "Teddy!"...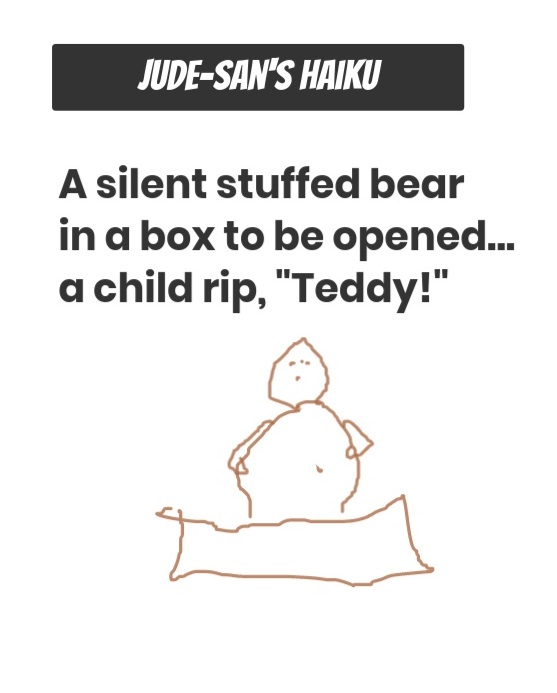 ---
What Does It Mean by Lily

Kids & parents locked in the house while kids can only see their friends through screen. What does it mean?
Missing their teachers & going to school, being outside & jumping in pools, swimming around not a care in the world. What does it mean?
Thanking the heroes who are fighting the battles to keep us healthy & safe. What does it mean?
Holding our loved ones close to our heart, thinking about when this will end & we can restart. What does it mean?
This is what it means to be in quarantine.
---
We Have a New Tortoise by Kayla age 4
We have a new tortoise
We just got it today
It's from Sue
His name is pancake
We feeded him with our flowers
Our teacher said we could
It eats leaves too
We didn't smell it
---
In a Charcoal Cloud of Loneliness by Alexander , age 11
I float in a bitter sea of liquid topaz
Trying to forget
Within this black cave of dripping rocks
She's gone
Along with her lemon yellow laughter
And the way her love wrapped around me like a blanket
I drown in a charcoal cloud of loneliness
Then sink in a tide of purple despair
---
This is My Poem by Ariana, age 4

I work on mine
while you work on yours
and we'll have our own
while we do the chores
---
Friendship is a Magical by Jolene, age 8
Friendship is a Magical
Friendship Forever pals
Kindness is important shells
Laughing caring together helps
Bring joy to the life is beautiful
---
Poetry by Sophia, 4th Grade

It travels
Into places
Transfers you
Into spaces
Where you just must,
Simply have to
Place yourself into others shoes
It could be about:
A fantastical world
And a daring adventure,
All in the name
Of love
Or an experience,
So soulful,
So desperate,
So full of meaning
Possibly an explanation,
Or maybe something,
Made up
Maybe a story,
Full of passion,
That was written
By You
---
Flowers by Claire, age 7
Flowers are beautiful
And they smell really good.
Bees eat the nectar from the flowers.
Flowers can be blue, yellow, pink, purple,
and other flower colors.
Flowers have stems and leaves
And they grow underground.
Flowers have to have
Water, dirt, and sunshine
And so do the other plants.
Chocolate by Claire, age 7
Chocolate comes from cocoa beans,
Which grew on trees in Central America and South America
Starting probably about 100 million years ago.
Cocoa trees may have gotten their start
On the lower slopes of the Andes Mountain.
Cocoa trees can only live in
Hot, rainy places near the Equator.
Cupcake by Claire, age 7
Cupcakes are delicious.
There are mini cupcakes, too.
There are frosting and chocolate.
There are blue, pink, white,
and other frosting colors in the world.
Cupcakes have sprinkles
and sometimes they are shaped like
flowers, clovers, daisies,
and stuff like that.
Stores sell cupcakes on holidays
or something really special
like President's day.

---
Anzac Day by Tahlia, age 11
Soldiers fighting, cuts biting
Nurses weeping, blood seeping
Bullets pounding, crashes sounding
FIGHTING FOR FREEDOM
Water by Joseph, age 11
Water in a
Backyard pond
Says nothing
Like the dead
Of night.
Still, lonely,
Quiet.
Salt water in
The ocean
Splish, splashes!
Sends up a wave
Of water, like
A volcano
Erupting!
Tangles itself
With long
Thick seaweed:
Hides whole
Swimming
Schools of
Sardines.
Inspired by "Grass" by Valerie Worth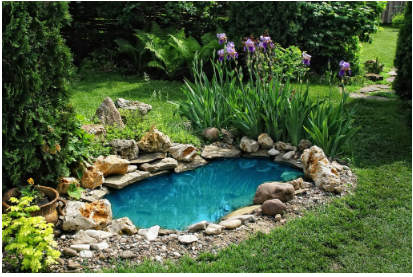 Beach's Beauty by Owen, age 12
Newport Beach, my home sweet home,
With your astonishing glamor, prettier than Rome.
I wouldn't go anywhere else, wouldn't substitute you,
I wouldn't live anywhere else, even for a diamond of blue.
All the people, the community so fine,
My city's beauty will forever radiate and shine.
The water gleams like a shimmering crystal,
Nothing could ruin that, except for the shot of a pistol.
Everyone would wish to be here, if they could just see,
How happy everyone is, including you and me.
No one here would wish to live elsewhere,
For our enjoyable qualities make this community so rare.
Oh, Newport Beach, so appealing to the eye,
You're more beautiful than a starry night sky.
Quarantine by Owen, age 12
Because of the coronavirus,
Everyone is trying to connect and feeling desirous,
I sure am trying, but I don't know about you,
To take advantage of this time, and to learn something new,
Staying healthy is really critical, Want to Listen?
Because COVID-19 has become so political,
Most are cooped up in their homes, safe and sound,
Bench watching TV, laying around,
But I've been doing hard work,
So when I'm out of quarantine I'll be able to smirk,
'Cause I've been practicing sports, settling into distance learning,
I'll be so happy once we start returning,
Back to normal, back to our regular lives,
When normality finally arrives,
Once the coronavirus is over, which we must endure,
'Cause after this, we must make sure,
That we're ready, that we're prepared,
Just in case this happens again, and we're not scared,
But whatever happens, this sure is an opportunity,
To come together and be a better community!
Superhero Poem #1 by Owen, age 12
Standing tall, dressed in a cape,
Never letting the bad guy escape,
They may fly or have super strength,
They may stretch to incredible length,
Most superheroes have no fear,
They make many people cheer,
Defeating villains, saving lives,
Catching criminals, slapping high-fives,
A superhero defends civilians,
Doing deeds that should earn them millions,
With their movie star smiles and astonishing looks,
They look like they're straight out of the books,
Risking everything, putting others first,
They're definitely the opposite of the worst,
Crowds shower them with "Thank you!"s
After they win, unscathed and without a bruise
Against them, villains win-loss columns, only zeroes
I BELIEVE IN SUPERHEROES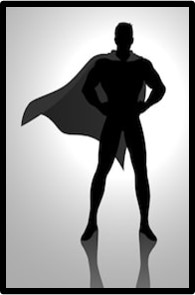 Superhero Poem #2 by Owen, age 12
Some superheroes don't wear a cape,
Doing things that cost them more than a scrape,
There are unlikely forms of being super,
Like the greatest teacher, or a helpful tutor,
Regular people make the world great,
Like your mom and dad, the ones that put food on your plate,
Saving lives, there are doctors and nurses,
And policemen that return stolen purses,
Sometimes it takes just one act of being kind,
To take away someone's bad day or to open their mind,
We need to recognize these doers of good,
Notice their deeds, they've done what everyone should
A little distinguishment is what they need,
And they'll be people's role model, we'll take their lead,
It'll make this world a way better place,
And we will all be able to embrace,
When everyone's a superhero with a special superpower,
Kindness will grow larger than the world's tallest tower,
Negativity level will go straight to zero,
When everyone is kind and, you guessed it, a superhero!
The Dreamscape
by Sara, age 13

I soar above the ground, my wings skimming the clouds
Every color is a dream-soft hue
I soar past diamond-bright stars and revolving planets
Carried to other worlds by my magnificent wings
I can be anything I want and do everything I want
I live out loud with the volume all the way up
I write my own story
A chimera of impossibility
Then I wake up.
---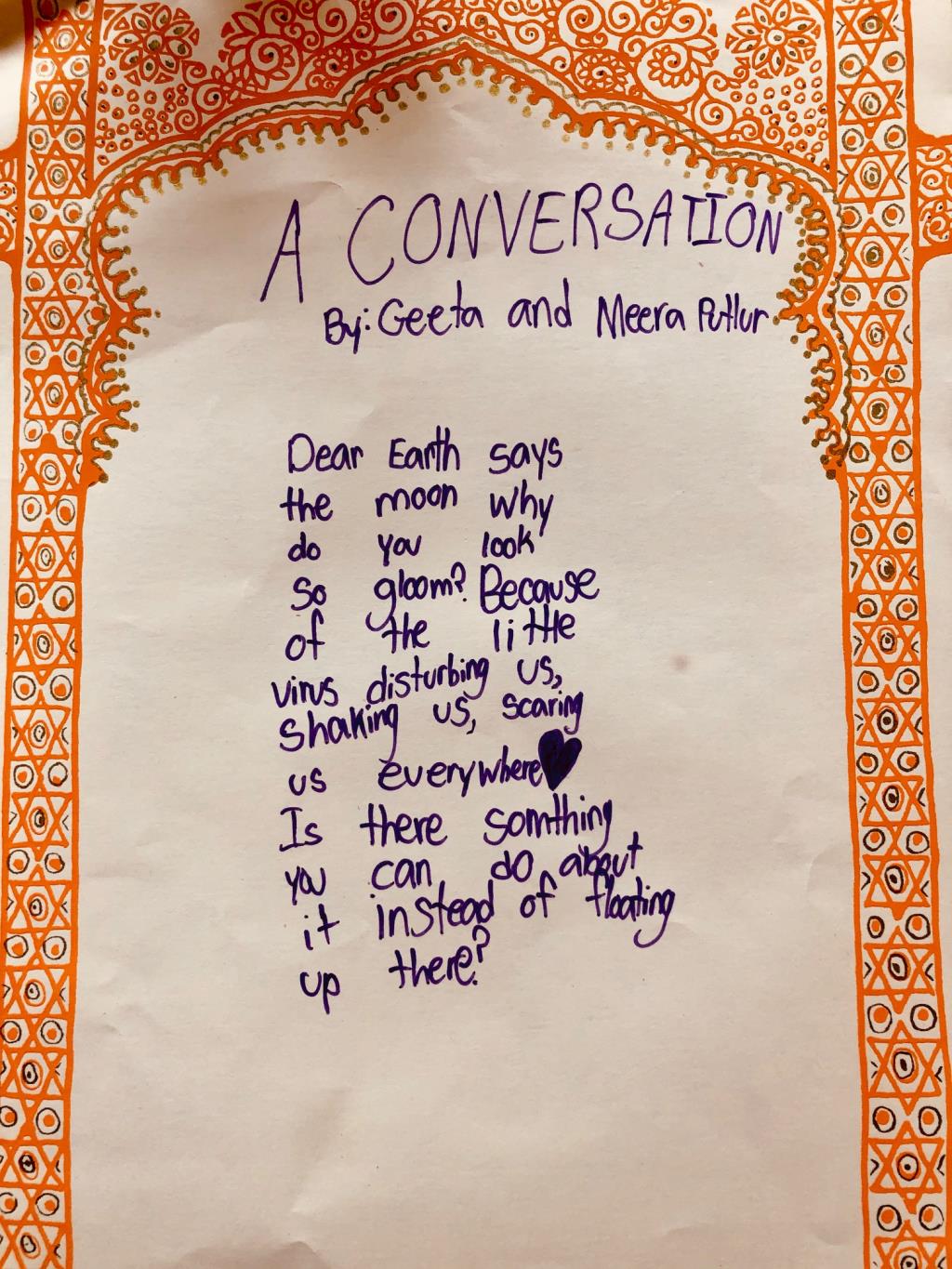 A Conversation with the Moon
by Geeta (age 7) and Meera (age 4)
Dear Earth says
the moon why
do you look
so gloom? Because
of the little
virus disturbing us
shaking us, scaring
us everywhere.
Is there something
you can do about
it instead of floating
up there?
---
By Mia, age: 9
New books
Extraordinary library
Wonderful
Peaceful and quiet
Original books there
Remarkable
Thrilling and exciting

Bravo bravo
Exciting
Amazed
Clean and organized
Happy in a good mood

Love the library
Incredible
Beautiful and tidy
Admirable librarians
Respectful
Yeah! Everyone is so happy at the Newport Library!
---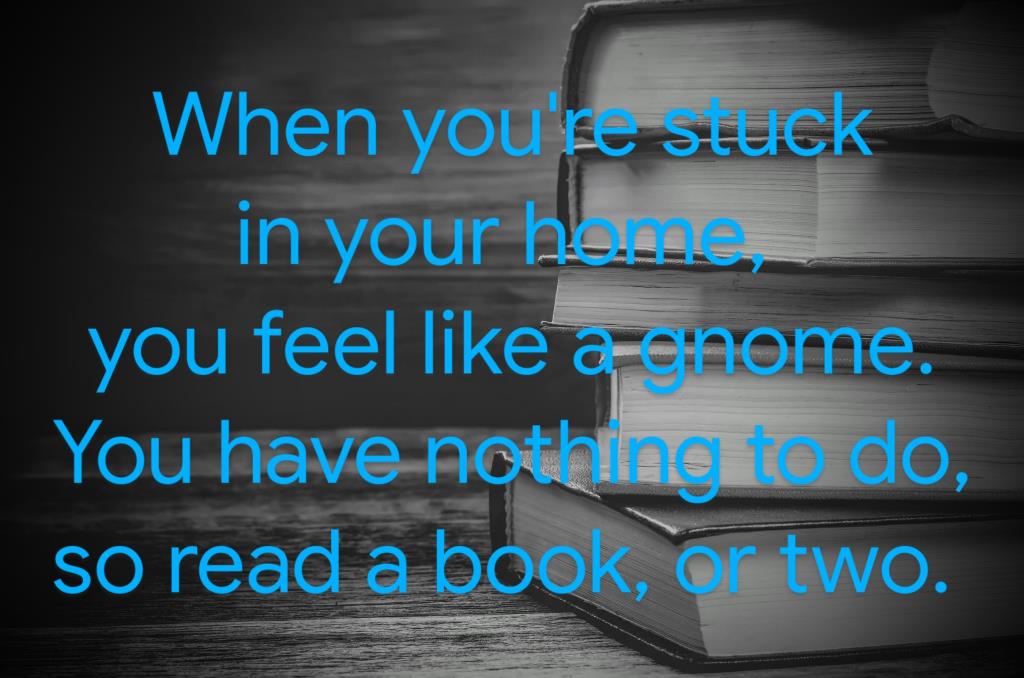 When You're Stuck in Your Home
by Noelle (age 9)
When you're stuck in your home,
you feel like a gnome.
You have nothing to do,
so read a book, or two.
---
Reading
By: Mia (age 9)
Reading is fun! I love reading those lines
makes me sing with rhythm and beat
and maybe even a melody!
So informative
lots of lines and lines
If you read so fast
you might be like Matilda by Ronald Dahl
So much fun and fun
it even makes you smart!
Now hurry up!
Go to the Newport beach library
and check those books out!
Even if you don't like to read
get the rhythm in your in head
stick with the rhythm
So lets read !!!!!!!!!!!!!!!!!!!!❤