Teen and Adult Summer Reading Program
Read | Investigate | Discover
The Summer Reading Program is open to Teens and Adults!
---

Teens in 7th-12th grades
Teen Summer Reading is for Teens ages 12-18 who are current or incoming 7th-12th graders. Teens are officially registered for Summer Reading when they submit their first book review online (available Saturday, June 20). After Teens write one review, they'll be contacted by email to pick up their prize book at their preferred library. Teens will also receive a special coupon for local restaurants along with their prize book to get them started on their Summer Reading journey.
Register by submitting your online review.
Participants can read print books, downloadable materials and listen to audiobooks.
For every book Teens read and review they will earn one entry in to our weekly prize drawings to win gift cards to online stores and bookstores. The more books that Teens read each week the better their chances at winning a prize. Winners are chosen at the beginning of each week and will be contacted by email. Teens who complete at least three book reviews are entered in to our Grand Prize drawing at the end of the program.
Teen Prize Books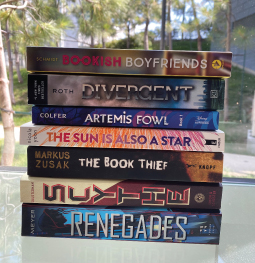 ---

Adults of all ages
Adults register for Summer Reading upon submission of their first book review. Online Book Reviews are encouraged. We will also have a submission box at the SRP curbside table for paper reviews. Once readers submit their third review, they will be eligible for a prize book, which they can pick up curbside at the library of their choice. Every book review submitted is counted as an entry into the Grand Prize drawing which readers can also pick up curbside.
Participants can read and review print books, downloadable materials and listen to audiobooks.
A Grand Prize drawing ticket will be entered for each review submitted. After submission of three (3) reviews, participants will be awarded a paperback book.