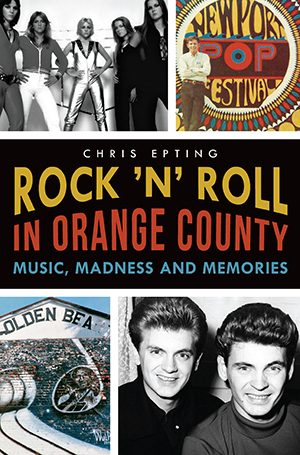 Chris Epting, Rock 'n' Roll in Orange County
Thursday, September 26, 2019, 7 p.m.
Meet Chris Epting, an award-winning journalist and the author of over 30 books on history and popular culture. But as a longtime Orange County resident, he is especially proud of his book, Rock and Roll in Orange County: Music, Madness and Memories. Elvis, the Beatles, the Righteous Brothers – they all are connected to the OC, along with many other legends that Chris will be sharing stories about.
---
Nicole Meier,
The Second Chance Supper Club
Wednesday, October 16, 2019, 7 p.m.
Nicole Meier is a native Southern Californian, who's debut novel, "The House of Bradbury," was chosen as a Best Book of 2016 by Refinery29. Her novel, " The Girl Made of Clay," was recently named a Top Book according to Bookbub readers. Nicole will be talking about her newest novel, "The Second Chance Supper Club," that will be published in September 2019 (Lake Union Publishing).
---

Adam Chandler, Drive-Thru Dreams: A Journey Through the Heart of America's Fast-Food Kingdom
Thursday, March 19, 2020, 7 p.m.
Take a fascinating road-trip through the heart of America's fast-food kingdom with author Adam Chandler. From White Castle, the first fast food chain, to Wendy's most viral tweet of all time, Chandler will talk about fast food history, people and stories that inspired his book, In Drive-Thru Dreams, and the inseparable link between fast food and American life for the past century.
Adam Chandler is a writer based in Brooklyn, New York. A former staff writer at The Atlantic, his work has also appeared in The New York Times, The Wall Street Journal, The Washington Post, Slate, New York Magazine, Texas Monthly, Esquire, TIME, and elsewhere.
Save Your Seat
---
Andrew Krivak, The Bear
Wednesday, April 22, 2020, 7 p.m.
Celebrate Earth Day with award-winning author Andrew Krivak, talking about his new novel, The Bear, a cautionary tale of human fragility, of love and loss and a stunning tribute to the beauty of nature's dominion. Set in an Edenic future, the story takes you a journey, where a father is preparing his daughter for an adulthood in harmony with nature, for they are the last of humankind. But when the girl finds herself alone in an unknown landscape, it is a bear that will lead her back home through a vast wilderness that offers the greatest lessons of all, if she can only learn to listen.
Andrew Krivak is also the author of The Signal Flame, a Chautauqua Prize finalist; and The Sojourn, a National Book Award finalist and winner of both the Chautauqua Prize and Dayton Literary Peace Prize, and a memoir about his eight years as a Jesuit, A Long Retreat: In Search of a Religious Life.
Save Your Seat
---

Christopher Goffard, Dirty John and Other True Stories of Outlaws and Outsiders
Thursday, May 21, 2020, 7 p.m.
Best known as the Los Angeles Times reporter behind Dirty John, the riveting true crime podcast and Bravo television movie about about a conman who terrorized a Newport Beach family, Christopher Goffard is a Pulitzer Prize winning journalist who has written about everything from border warriors and prison gangs to the legacy of Watergate.
The Dirty John story, which first ran as a print series in the Los Angeles Times, wasn't unfamiliar terrain to its writer, Christopher Goffard. With over two decades experience at newspapers, including a lengthy stint with Orange County's Daily Pilot, Goffard has reported probingly on the shadowy, unseen corners of society. His book, Dirty John and Other True Stories of Outlaws and Outsiders , gathers together his very best work.
Save Your Seat
Unless otherwise noted, there is no charge to attend these author lectures.They are generously funded by the Friends of the Library. Lectures are held in the Central Library Friends Room. Seating is limited and available on a first-come, first-served basis. Books will be available for purchase and signing by the author.