Celebrating the History
Building for the Future

25th Anniversary Celebration
"Without libraries what have we? We have no past and no future."
-- Ray Bradbury
25 years - can you believe it! It was in July 1994 that dreams came true for a group of dedicated and hard-working individuals who spearheaded the building of a new Central Library in Newport Beach. Their vision resulted in the building, collections and services that fulfill the mission of the Newport Beach Public Library to be the cultural, educational and informational heart of the City.
From now until the end of the year, the library will celebrate its extensive past and exciting future by highlighting programs that capture the essence of the library and its place in the community.
Schedule of Events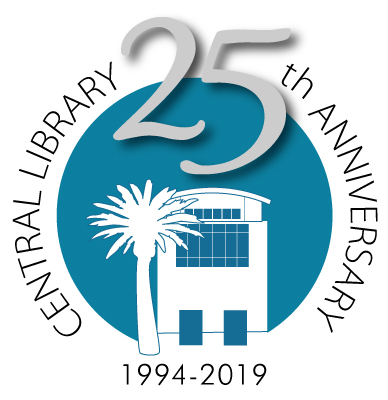 January: The Celebration begins!

February: We Love the Library

March: It's Your Lucky Year

April: National Library Week

May: Books, Bunnies and More!
June: It's a Summer Reading Spectacular
July 7-13: A week of celebration festivities - to be announced
---
Sign our giant Anniversary Card at the Central Library and pick up a special Anniversary pen!
Cards are on both levels of the Central Library.
---

Share your memories of the Central Library!
Write a note or record a message with your thoughts or story and we will put them up on the webpage to share.