Become a Book Review Blogger!
Do you enjoy reading and writing? Become one of the library's teen bloggers and help other teens find out about books you love. You can be a volunteer at home!
Must be 12-18, in 7th-12th grade and be able to write in a conversational way with minimum grammar and spelling errors.
Book Reviews by NBPL Teens
Boots on the Ground by Elizabeth Partridge
Review by Hargun
Post Date:
03/01/2022 9:00 am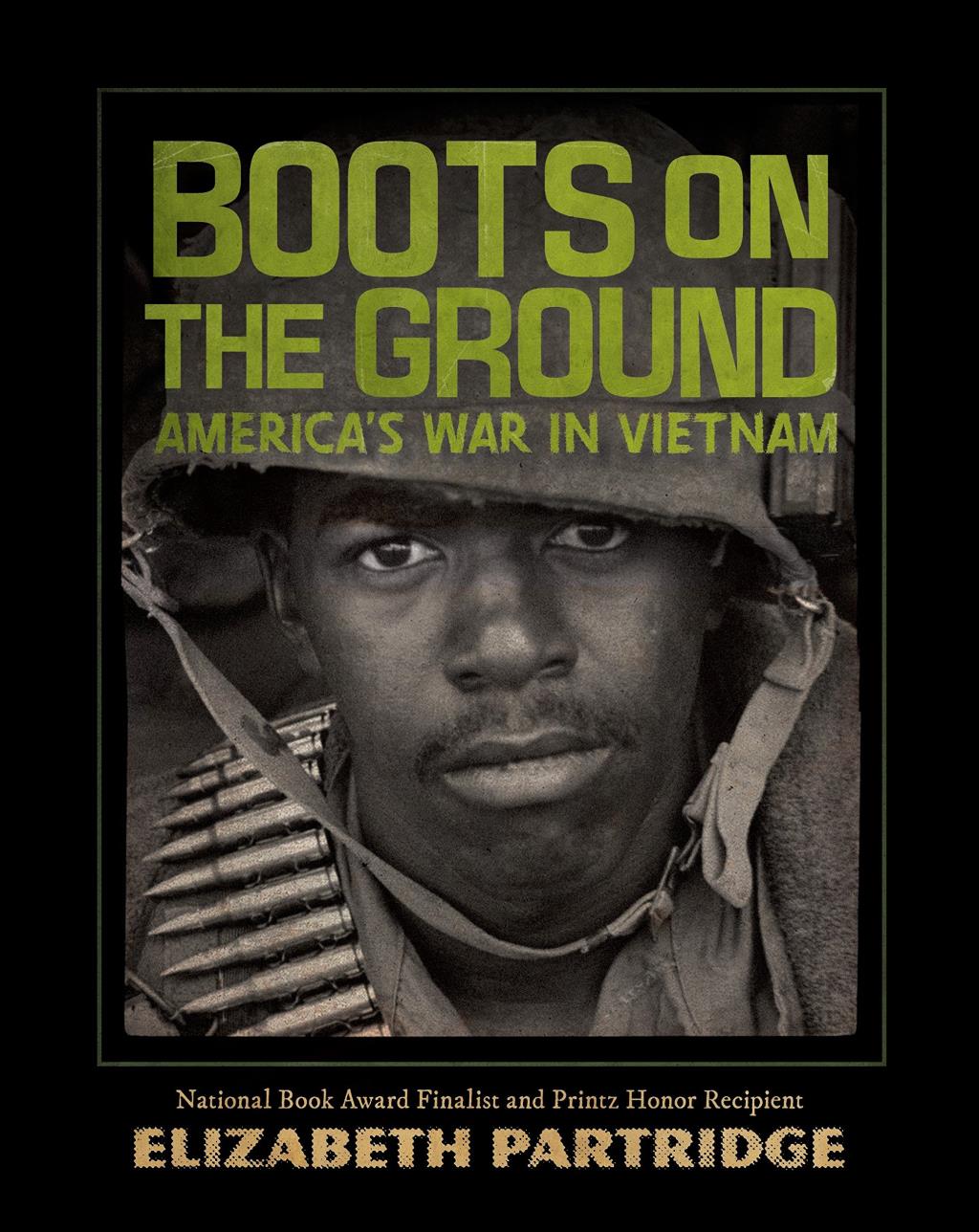 America's war in Vietnam. In over a decade of bitter fighting, the war claimed the lives of more than 58,000 American soldiers and troubled four US presidents. More than forty years after America left Vietnam in defeat in 1975, the war remains controversial and divisive both in the United States and abroad. The history of this era is complex; the cultural impact extraordinary. But it's the personal stories of eight people—six American soldiers, one American military nurse, and one Vietnamese refugee that create the heartbeat of Boots on the Ground. From dense jungles and terrifying firefights to chaotic helicopter rescues and harrowing escapes, each individual experience reveals a different facet of the war and moves us forward in time. Alternating with these chapters are profiles of key American leaders and events, reminding us of all that was happening at home during the war, including peace protests, presidential scandals, and veterans' struggles to acclimate to life after Vietnam.
In BOOTS ON THE GROUND, Elizabeth Partridge presents the Vietnam War from various perspectives, including that of multiple presidents, soldiers, a nurse, and a Vietnamese refugee. The personal stories, many pictures, facts, and historical context all come together to show the reader what it was like during this time, what it was like to go to war, and what it was like to survive (and be haunted by) the war. The stories of those she interviewed speak to the fear, uncertainty, anger, patriotism, sorrow, and frustration that accompanies war and everyone it affects. The people Partridge writes about are diverse (including black, Asian American, and Mexican American soldiers, a biracial nurse, and Chinese American Maya Lin, the designer of the Vietnam Veterans Memorial), and she covers important events that happened around the war, including Woodstock, Kent State, protests nationwide, Martin Luther King Jr's stance on the war, wartime and post-war refugees in Vietnam, and life after the war for veterans. The photographs add a lot to the narrative, driving home just how young these soldiers were, how horrible the conditions were, and how many lost their lives.
The Vietnam War was a time of political disagreements, cultural upheaval, and horrific events. It can be challenging to understand, especially for young people like me born decades afterward, but Partridge unpacks this harsh time with clarity and compassion. Employing a unique and powerfully moving structure that sends readers geographically back and forth between America and Vietnam over a twenty-year time period, she centers each chapter on an individual affected by the conflict. Partridge opens with the story of American military advisor Mike Horan. After giving readers a sense of Horan's troubled early life, Partridge follows him into the armed forces and then Vietnam, explaining just the right amount of historical detail as she describes his experience of jungle combat. The next chapter focuses on President Kennedy as he grapples with whether or not to increase American involvement in Vietnam. The rest of the book maintains chapters featuring Presidents Johnson and Nixon; Martin Luther King Jr.; antiwar entertainer Country Joe McDonald; and Vietnam Memorial architect Maya Lin alternated with those telling the often wrenching personal stories of the eight people, seven veterans and one Vietnamese refugee that Partridge interviewed.
I personally found this book very intriguing and engaging because I don't find many non-fiction books interesting. Often times I would choose mythological books or fiction sports books, but this book made me want to read more non-fiction ones. A combination of the writing and pictures from page to page really put me in that time frame and made me understand the history of this war. For these reasons, I rate this book 5/5 stars because I couldn't find any flaws in it and overall had a great time reading it.
Return to full list >>