Become a Book Review Blogger!
Do you enjoy reading and writing? Become one of the library's teen bloggers and help other teens find out about books you love. You can be a volunteer at home!
Must be 12-18, in 7th-12th grade and be able to write in a conversational way with minimum grammar and spelling errors.
Book Reviews by NBPL Teens
To All the Boys I've Loved Before by Jenny Han
Review by Kaydence
Post Date:
08/01/2020 9:00 am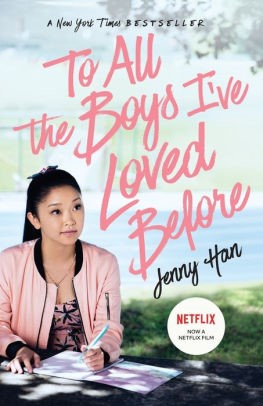 Jenny Han's To All the Boys I've Loved Before is the first in a trilogy. It is a heartfelt romance
novel about a girl who's five love letters accidentally get sent out. It follows Lara Jean Covey
and her picking up the pieces after the letters are sent.


The story starts off with Lara Jean's sister Margot going off to college in Scotland and breaking
up with her long term boyfriend, Josh. On top of having to deal with being the oldest sister and
having to take care of her younger sister Kitty all by herself for the first time her five love letters
get sent out. One of which went to Josh. The other four went to Peter from school, John
Aberose from middle school, Kenny from camp, and Lucas from school. When Lara Jean goes
to school she runs up and kisses Peter in front of Josh so he doesn't think she likes him
because she can't have Margot find out.


Later that day Lara Jean and Peter get talking and they decide to start fake dating. Lara Jean
does it so she can keep Josh away and have this whole thing blow over. Peter does it to make
his ex-girlfriend jealous and want to get back together with him. They start hanging out all the
time and people really believe they are together. No one knows it's fake except them. Lara Jean
doesn't tell Margot because she doesn't want to lie to her and it is really hard. Josh is really mad
about their relationship and says that Peter isn't good enough for Lara Jean.


A few months later, they go on the annual Ski Trip together. On the trip Peter tells Lara Jean he
has feelings for her. Lara Jean initially rejects him but later she changes her mind and they
become a real couple. After arriving home Genevieve, Peter's ex-girlfriend, shows Lara Jean a
viral video of her and Peter kissing in the hot tub. Lara Jean believes that Peter did it and stops
talking to him.


Peter shows up to the Covey's christmas party and starts talking to Josh about him and Lara
Jean. Margot overhears them and is upset with Lara Jean that she didn't tell her and that she
was in love with her ex-boyfriend. After a lot of talking between Lara Jean, Margot, and Kitty
they all make up. Kitty finally reveals that it was her who sent the mail because Lara Jean
seemed lonely.


When Kitty gave Lara Jean back the hatbox the letters were in, Lara Jean finds all the notes
Peter had been writing to her. Kitty had saved them to prove how much he liked her. Lara Jean
realizes her true feelings for Peter and starts to write him another letter.


This book was a great, heartwarming teenage love story that any romantic would enjoy. I loved
that it wasn't another love story. It was about family connections and the importance of really
understanding how you feel before rushing into anything. I feel in love with the characters and
have every time I've read this book.


There were parts of the book that were unnecessary and just drug out the story. There were
also some things that needed more background.


Overall the book was entertaining and well written. I give this book a 9/10 and recommend it to
anyone looking for a good love story with a happy ending.
Checkout To All the Boys I've Loved Before from the Newport Beach Public Library.
Return to full list >>