Film Night: Night of the Living Dead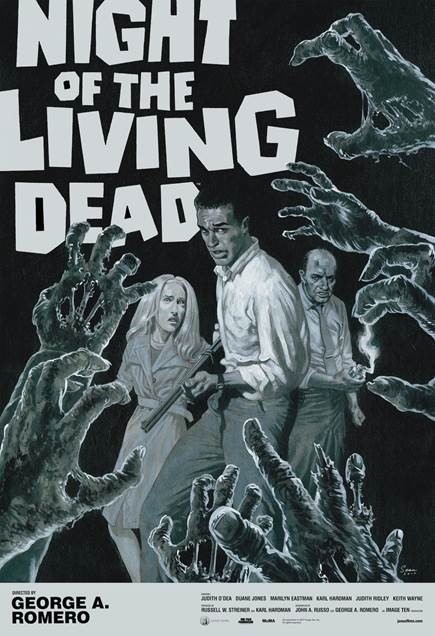 Film Night at the Library: Presented by Kanopy.
Get in the Halloween spirit and come watch the granddaddy of all zombie films: Night of the Living Dead (1968).
This classic film, which was added to the National Film Registry by the Library of Congress in 1999 for being a film that is "culturally, historically or aesthetically significant," was directed by horror master George A Romero and shot on a shoestring budget at a location outside Pittsburgh.
Night of the Living Dead was a midnight hit turned box-office smash that became one of the most influential films of all time. It tells the story of a group of strangers trapped in a farmhouse who find themselves fending off a horde of recently dead, flesh-eating ghouls. Romero's claustrophobic vision of a late-1960s America, literally tearing itself apart, rewrote the rules of the horror genre, combined gruesome gore with acute social commentary, and quietly broke ground by casting a black actor (Duane Jones) in its lead role.
The film will be shown in the Friends Meeting Room using streaming video from Kanopy, an online streaming video resource that NBPL customers can use for free.
Return to full list >>